Investing with Brazilian hedge funds and private equity managers can be a daunting task for foreign institutional investors. The rapid growth and evolution of Brazil's alternative asset management industry makes identifying and selecting asset managers a significant challenge. Differences in language, business culture, and regulatory environment are additional barriers to overcome. We provide expertise and logistical support to clients interested in gaining an understanding of the Brazilian alternative investment management industry and in the screening and selection of the managers that best meet their objectives.
We offer:
Brazil Expertise – Experienced team with deep industry relationships and a track-record of investing in Brazil
Market Overview – Overview of the Brazilian alternative fund industry with current outlook, trends, and local regulatory environment
Research – Extensive research on leading established funds and emerging managers
Manager Selection – Identify and select managers through research, manager interviews, in-country market knowledge, and applying a qualitative and quantitative framework
Due Diligence and Support – São Paulo based team provides support and performs manager due-diligence
Ongoing Monitoring – Monitor through periodic manager visits and tracking local investor perception
---
Brazil Investment Climate
Monetary and fiscal reforms in Brazil, starting in the mid-1990s, set the stage by taming inflation, reducing budget deficits, and stabilizing the currency. Revamping of market regulations built on these gains helped expand a small equity market that had been dominated by a limited number of insiders. Moving into the new millennium, the economy received an additional impulse from the booming international commodity markets. The growth of the domestic consumer market was a direct beneficiary of the expanded social programs that were a major factor in the rapid expansion of the middle class.
Though initially lagging its Asian peers, Brazil took its place as one of the BRIC's and began to draw increased attention from international investors. Its profile was greatly enhanced with the onset of the global financial crisis of 2008. While Brazil did not pass the crisis unscathed, the country rebounded quickly and the investment environment remained robust, marked by solid economic performance, a booming equity market, high real interest rates, and an appreciating Real.
However, by 2011, the Brazilian economy and markets were losing steam as growth slowed and inflation began to rise. The government failed to continue to build on the structural and regulatory reforms. The rapid accelerated growth had also pushed the infrastructure perilously close to full capacity. All too often, the official response to perceived difficulties was direct government intervention. Initially, high real interest rates kept investors focused on fixed income options, however the deterioration of the Real in mid-2013 dramatically altered this outlook. Currently, conditions are gradually improving and arguably asset valuations present a compelling case for institutional investors seeking medium to longer term investment opportunities in the emerging markets.
---
Our Approach

We provide an overview of the Brazilian alternative fund industry with current outlook, trends, and an understanding of the local regulatory environment through an experienced team with deep industry relationships.We employ a rigorous research process to evaluate hedge fund and private equity offerings, and determine the products that best address a client's return goals within their risk and volatility parameters. Once the investment decisions are executed we, in close coordination with our São Paulo based Brazilian partner, continue to assist in the monitoring, periodic review, and any re-allocation of assets.
---
Built on Three Fundamental Elements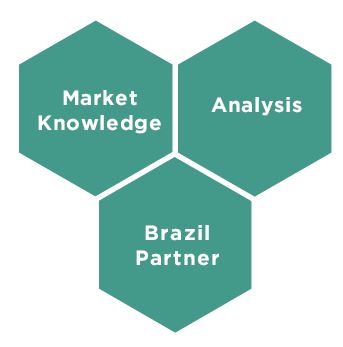 Market Knowledge – In-depth knowledge of the socio-economic environment developed through a long active engagement with Brazil financial markets
Analysis – Risk analysis and asset allocation process developed through experience with leading institutional investors
Brazil Partner – Strategic partnership with a São Paulo based Brazilian investment team fully dedicated to managing portfolios of Brazilian hedge funds